The executive committee of the Evangelical Fellowship in the Anglican Communion (EFAC) (Global) together with the trustees of the English charity EFAC met for three days in November to confer about the opportunities and challenges facing the gospel witness of the Anglican Church around the world.
Chris Sugden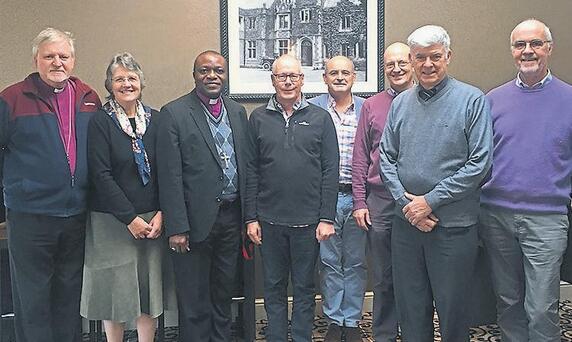 Members of the EFAC Executive Committee and Trustees

Left to right. Bishop Keith Sinclair (England), chair of trustees, Julia Cameron (publications director), Bishop Henry Okeke (Nigeria), Bishop Stephen Hale (Australia - chair of Executive Committee), Stephen Hofleyr QC - England, trustee, Rev Dr Peter Walker - Secretary of Theological Resource Committee, Canon Dr Chris Sugden -England trustee, Bishop Henry Scriven- England Executive Secretary. Absent Bishop Seth Ndayirukiye (Burundi), Rev Vijay Kumar (India)
They affirmed that EFAC is defined by theology, not by a relationship to a bishop. Through fellowships, fora and resources EFAC builds on the five marks of mission:
1. To proclaim the Good News of the Kingdom
2. To teach, baptise and nurture new believers
3. To respond to human need by loving service
4. To transform unjust structures of society, to challenge violence of every kind and pursue peace and reconciliation
5. To strive to safeguard the integrity of creation and sustain and renew the life of the earth.
Centrality of the gospel
EFAC's vision and mission is to play a key role in equipping evangelical Anglicans to promote the gospel at every level, locally and globally; to establish new EFAC groups in any province where there is confidence in the gospel, and to promote a joyful standing for gospel truth, not marching to or in reaction to a liberal agenda.
They confirmed Bishop Henry Scriven, formerly a bishop in the diocese of Europe and in Pittsburgh USA, and also former Latin America Mission Director of CMS, as General Secretary of EFAC.
They sent congratulations to The Most Reverend Henry Chukwudum Ndukuba, the new Primate of Nigeria.
Archbishop Ben Kwashi, the General Secretary of GAFCON, has written 'Abp Henry Ndukuba is a rural rugged evangelist who from his priesthood until now has suffered much for the gospel in northern Nigeria. He has had his house burnt, has survived gun shots and hostility for his faith. Yet he remains undaunted in his love for people, serving communities and building schools and clinics wherever he served: a dedicated missionary, Bible teacher, and humble preacher of the word.'
Bishop Henry Okeke, chairman of EFAC Nigeria, reported on their national convention held in August and attended by 12,000 clergy and lay members, most of whom were under 40. This was preceded by a retreat for 2,000 clergy and their wives. Archbishop Stanley Ntagali of Uganda was a special guest and the theme was 'Understand the Time'.
It was decided to plan for a global youth gathering for those of 35 years and under in July/early August 2022. This will take place in Nigeria or Kenya and will include visits to churches and mission projects.
EFAC in America
Bishop Stephen Hale, the chair of EFAC's Executive Committee, reports on the EFAC USA 2019 Conference in Birmingham, Alabama:
'I had privilege of participating in the EFAC USA Conference hosted by the Advent Cathedral in the heart of downtown Birmingham, a very lively Episcopal Church. [This is] led by the Dean, Dr Andrew Pearson. They have a very innovative approach to contemporary music and praise led by Revd Zac Hicks.
'There were around 80 or more participants with a mix of evangelicals within The Episcopal Church (TEC) as well as from the Anglican Church of North America (ACNA).
'The Conference was anchored by services of Morning and Evening Prayer each day with homilies from a range of people. The Conference focus was on preaching and the main guest speaker was Revd Vaughan Roberts [of St Ebbes Church, Oxford]. Each challenging and encouraging talk was very well presented. Vaughan speaks out of a parish context, where he is putting theory into practice week in and week out.
'Other speakers were Dr Gerald Bray (Beeson Divinity School), Very Revd Dr Andrew Pearson, and Revd Dr John Yates III (ACNA, North Carolina). Each were outstanding and reflected on preaching in a postmodern context. Workshops included one on EFAC Global, led by Bishop Stephen Hale.
'The Conference had an excellent spirit with very good relations between the Episcopal and ACNA people.
'They have a clear sense of being in a new season and that EFAC USA/Global has a vital role in drawing together evangelicals from within both TEC and ACNA. Evangelicals are a minority within the TEC but seem to be growing in number and influence. ACNA represents three streams – catholic, charismatic and evangelical Anglicans. My sense was that ten years after the splits a new generation is emerging. There are still many challenges but also many new opportunities.
'There was a lot of energy for growing the movement and seeking to draw in a larger group for the November 2020 Conference.
'Being at the Conference reinforced for me that EFAC Global as a fellowship of evangelical Anglicans can be a great connector within the plurality of global Anglicanism.
'As a movement EFAC USA appear to have several things going for them:
• Good relations because they are smaller
• Gospel clarity
• Strong parishes (in a context of significant decline)
• A good seminary in Trinity School for Ministry in Pittsburgh
• Key and able leaders
• Potential access to financial resources
• Men and women in ministry and leadership
• A number of influential bishops within the TEC as well as ACNA.
'It was a pleasure to be a guest of EFAC USA. I came away greatly encouraged.'